3 Ways Healthcare Staffing is Different from Other Industries
Anyone in the healthcare industry in charge of staffing knows how difficult it can be to find the perfect candidate for the position. After all, medical facilities regularly need highly-qualified individuals with very specific educational and experience requirements.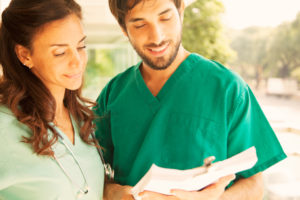 In this article, we'll cover 3 of the main ways that healthcare staffing is different from staffing for other industries, and how these challenges can be tackled.
Every moment counts
This isn't to say that positions in other industries can afford to be empty for a generous amount of time, but in the healthcare industry, filling open positions as soon as possible is crucial. Oftentimes, staffing is already tight for many facilities, so the loss of a single physician's assistant can put a lot of stress on the rest of the staff.
Decreases in qualified providers
According to the Physician Shortage and Projections report by Association of American Medical Colleges, in just 10 years the U.S. will be short approximately 46,000 physicians and healthcare providers. So not only are healthcare facilities pressed to replace staff members as quickly as possible to reduce workplace stress, but the number of qualified applicants is steadily decreasing.
Finding applicants
With a decreasing number of qualified applicants available, finding them can be difficult for healthcare facilities. Many of the job advertising outlets that other industries use, such as job search websites and digital pin-board websites such as Craigslist, simply aren't effective for quality healthcare position staffing.
One solution which tackles all three challenges mentioned is consulting a staffing service that specialized in healthcare staffing. Services such as Alignstaffing will have access to a network of healthcare professionals to assist healthcare facilities in increasing staffing as soon as possible. With all the needed resources readily available, it takes many of the difficulties of healthcare staffing out of the equation.
Personalized, professional healthcare staffing solutions
Alignstaffing leads the market in staffing solutions by placing top candidates in the healthcare, education, and social service industries. As the most trusted and successful staffing company in DC, Maryland, Virginia, Delaware, and even Pennsylvania and New York, we're dedicated to providing employers with qualified professionals, and professionals with their dream jobs.
If you're looking for tailored healthcare staffing solutions, CONTACT US online or give us a call at 1-877-557-3422 (toll-free) or 301-220-0580.
We make perfect matches for professionals and employers alike, with impressive testimonials and a top team of staffing experts.
Opportunities open doors to success. Don't put off your success—let Alignstaffing lead the way.
You can also follow us on Facebook, Twitter, Google+, Pinterest, and Youtube.