Make a Good Impression with These Job Interview Tips
You want to make the best impression possible when in an interview to score your dream job, but how is this accomplished? The impression to make during an interview is especially important in esteemed industries such as medical, education, and social services. You want to be timely, prepared, and ready to "wow"—but what does that entail?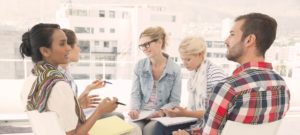 Check out these great job interview tips to add to your interview preparation!
Do your research
You should know a decent bit of information about the company prior to your interview. You should know what they do, how long they've been in business, and of course, the job requirements (if all of this information is available to you). Luckily, the internet makes it easy to do research on prospective employers.
Prepare questions
You should have questions ready before your interview. Some good questions to ask involve the future of the company, how the interviewer feels about their job, qualities they perceive important for the job position, etc. You should seem interested in the company and the job position, but make sure you aren't asking questions that have accessible answers (for instance, answers that may be on their website).
Make a good impression on everyone
You will likely come in contact with many staff members before and after your interview, and you should try to make a good impression with all of them. Just a smile, being polite and being kind goes a long way. You never know who you may be smiling at, and how much of an influence they have over whether or not you are hired.
When you are one of many being interviewed for a job position, it's important to stand out in a good way. When finding a job through staffing services like Alignstaffing, you receive the best preparation available to nail the job of your dreams.
Personalized, professional staffing solutions
Alignstaffing leads the market in staffing solutions by placing top candidates in the healthcare, education, and social service industries. As the most trusted and successful staffing company in DC, Maryland, Virginia, Delaware, and even Pennsylvania and New York, we're dedicated to providing employers with qualified professionals, and professionals with their dream jobs.
If you're looking for tailored staffing services, contact us online or give us a call at 1-877-557-3422 (toll-free) or 301-220-0580.
We make perfect matches for professionals and employers alike, with impressive testimonials and a top team of staffing experts.
Opportunities open doors to success. Don't put off your success—let Alignstaffing lead the way.
You can also follow us on Facebook, Twitter, Google+, Pinterest, and Youtube.